15 Things To Do In Al Wathba - Insider Guide
2020 January Updated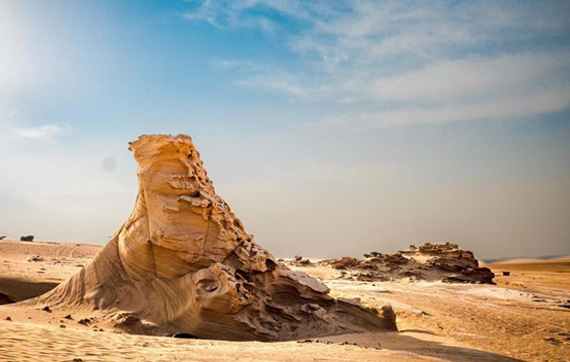 ---
Numerous travelers eagerly plan their first trip to Al Wathba. Now, with this comprehensive guide Al Wathba things to do to you can get to know about all the entertaining things to do around Al Wathba Desert and plan your visit properly.
01

Join the spectacular Camel Racing Festival 2020 -2021
---
Checkout 2020-2021 Abu Dhabi Camel race schedule and visitor guide to plan your journey to joining the spectacular camel racing event. If you are visiting Abu Dhabi on the days where you can't visit the race make a stop at the Al Wathba Camel Race track see the trainings (make sure you go early morning) camel race is UAE's national sport that has been around since the 7th century. The racing track situated roughly 45 kilometers away from Abu Dhabi, visiting this facility will give you a chance to take a look at how the camels are trained, learn about the special ways in which these giants are adapted to the scorching desert environment and many more interesting facts about them.
02

Get Inspired at Sheikh Zayed Heritage Festival
---
Its largest family event take place in Abu Dhabi every year with lots of surprises and new attractions. The festival theme is showcasing the dreams and aspiration of the late Sheikh Zayed bin Sultan Al Nahyan, the founder and father of UAE. The country prosper and grown to the level today only because his visionary leadership & so today all UAE people celebrate him, you can see and learn more about his past life and details in this festival. The festival also accommodate stalls of other countries special retail products, especially the performances from many countries always entertaining the visitors. If you lucky if you visit during the Thursday & Friday you can enjoy a large spectacular fire works.
03

Al Wathba Desert
---

Al Wathba Desert
Situated a mere 40-minute drive away from the Abu Dhabi city, Al Wathba is an outer district of Abu Dhabi. Al Wathba comprises of a large area and is located near the Abu Dhabi – Al Ain highway. The small village is enclosed by the Al Wathba desert. Places to visit in the vicinity are the fossil rock, the famous camel racetrack, the Al Wathba cycle track and the running track to name a few. Al Wathba is an ideal place for families, couples, adventure seekers, cyclists and anyone who wants to enjoy a thrilling day in the desert.
Best time to visit
Weather In Abu Dhabi


04

Al Wathba Fossil Dunes -

Awe at otherworldly structures
---
Al Wathba's twisted golden sand dunes have made their appearances in many top-budget Hollywood films. The unique shape of the dunes and rocks are formed by wind-swept sand and saturated with calcium carbonate to create nature's own quirky sculptures. Anyone who visits this place is bound to feel like they are on the land of some alternate planet, but believe it or not, you are just 30 minutes away from Abu Dhabi city. Situated in the vicinity of the wetland reserve, it's a perfect place for camping and exploration. Make sure to clean up any of your waste to prevent the site from getting polluted. A visit to these otherworldly structures is a mandatory activity in the list of things to do in Al Wathba.
05

Al Wathba Wetland Reserve -

Say hi to the camel spider and flamingoes
---
You have seen camels but have you seen camel spiders? Spiderphobes can see them too in a jar at the Al Wathba Wetland Reserve. Home to over 4,000 flamingoes, 260 bird species, 16 types of reptiles (majority lizards), 10 mammal species, insects and 35 species of flora, the wetland reserve is a refreshing break from the city. Chances of spotting flamingoes are high because it is the only regular breeding site for the Greater Flamingoes (with roughly 601 flamingo chicks hatched this year) in the entire Middle East.

Upon arrival at this reserve you will be given a brief introduction and a handbook listing all the bird, animal and flora species found within the reserve. There are two trails in the park, a green trail with a lizard sign for more reptile action and a red trail with the flamingo logo. The trail is approximately a 3 hour walk with numerous photo ops and finally the treasure sight of the flamingoes. There are huts for shelter along the way but since you will be under the sun most of the time make sure to wear and bring along sunscreen. This place is ideal for not only birders but also nature lovers, couples and families with kids who are enthusiastic about wildlife. Families with toddlers and infants might find the walk a bit tiring. Walk through tall grass, spot flamingoes, a crested lark or a white-cheeked bulbul and revel in the tranquility of a preserved gem that is surely a mirage in the desert.
Stay at Al Wathba Desert
Jumeirah Al Wathba Desert Resort & Spa
---
Situated amidst the golden plains of the desert, the Jumeirah Al Wathba Desert resort and spa is an ideal retreat that offers you with a perfect balance of nature and luxury. Enter within its fort-like gateways to a world oozing Arabesque décor, comfort and the feeling of being in a home away from home. Decorated around the concept of a modernish Bedouin settlement, the twisting walkways lead you to a new place every time you wander through them. Lounge in its gorgeous lobby 'Hayaakom' at check-in, walk through its gorgeous courtyards to get to any of the 103 rooms or cool off in your room's cozy hammam bathing areas. The sandy tones complemented with red and black reflect the different colors of the desert without being too harsh on the eyes. You could even enjoy a swim and update your Instagram with the gorgeous views of the overlooking palm trees backed by the desert. Kids are entertained too either in the kiddy pool or the Kid's club. Rejuvenate your mind and body in the resort's own Talise Spa offering a variety of massages, facials and more. Choose your pick from any of its scrumptious restaurants to keep you and your taste buds happy for more desert-related activities.
---
Currently, this is the only hotel in Al Wathba Desert
Things to do while staying in Jumeirah Al Wathba Resort
06

Luxurious Bedouin experience

(Al Mabeet Desert Camp)

The Al Mabeet Desert camp is located within the gorgeous territory of Jumeirah Al Wathba resort in the Abu Dhabi desert. Decorated to replicate a luxurious modification of how the Bedouins lived, the camp setup will give you a good idea of how Bedouin tents were arranged without compromising on your comfort. This deluxe camp has hosted many VIP guests and leaders of Bedouin tribes. Experience the essence of the desert while treating your taste buds with the true flavors of Emirati cuisine.
---
07

See A large flock of flamingoes

(Al Wathba Wetland Reserve)
---
Go on an exciting drive in a 4x4 across the sabkhas (sand terrains) of Al Wathba Wetland Reserve. Switch to walking as you cover the varying ecosystem from picturesque water pools to forests of tall grass, gravel plains and more. Get to see a variety of native species- from the pink-hued Greater Flamingo to the endangered spine-tailed Dhub lizard and the carnivorous antlion- and learn more about these creatures and their ecosystems in the reserve from the expert field guides. You will also gain an insight into the migration patterns of the migratory birds in the reserve and also learn about the various local flora and their uses. The Reserve is home to 260 species of birds, 16 reptiles, 10 mammals and roughly 40 plant species. The reserve has also a staggering 5000 flamingoes with the hatch rate of 610 flamingo chicks last year, the reserve's personal best. This is a mandatory thing to do in Al Wathba.
08

Explore The Desert On Horseback
---
Imagine yourself riding at the crack of dawn watching the sun peeking up from the horizon or feel the cool breeze as your horse gallops across the sunset into the desert or better yet enjoy the cool breeze and the glistening sky of a moonlit night at the desert with your horse. All of these options are possible while staying at the Jumeirah Al Wathba Resort. This tour will make you understand why the Emirati Bedouins loved travelling with horses. Listen to the melodical beats of the hooves as your horse throws up some sand and travels across the desert dunes. Add to your experience of Emirati culture by adding-on a falconry show, Bedouin style.
Sand dune - 45 min: AED 270 beginner / AED 300 intermediate
Endurance track - intermediate / advanced - one hour: AED 400
Endurance track - intermediate / advanced - two hours: AED 500
Sunrise / sunset without falcon Show - one hour - AED 400
Sunrise / sunset with falcon Show - one hour: AED 700
Full moon tour one hour: AED 500
Full moon tour two hours: AED 700
09

Fat bike ride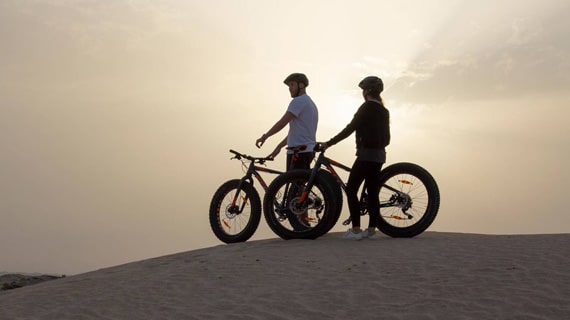 Fat bike ride Al Wathaba
---
Paddle your fat bike and follow your guide around the ethereal formations of Al Wathba's fossil dunes. Float across the dunes as you maneuver your bike equipped with fat tires to easily conquer the sliding desert terrain. In the meantime, your guide will also teach you methods to recognize different animal tracks. You will also get the chance to spot native desert animals like grasshoppers, beetles, lizards, foxes and other animals that call Al Wathba desert their home.
10

Falconry experience -

Admire the 6000-year-old hunting companion
---
A companionship between human and animal that goes back 6000 years is still held strong in the UAE. Any idea what I'm talking about? Falconry, a traditional UAE sport where the falcon is trained to hunt prey for their Bedouin companions. Falcons are agile creatures with sharp sight and quick movements making them the ideal bird for this task. Learn important information about this majestic bird and observe its hunting skills in action with a live and private falconry demonstration. Interact with the national birds of UAE and awe at their agile movements that can snatch even the nimblest of prey.
11

Take a nocturnal animal hike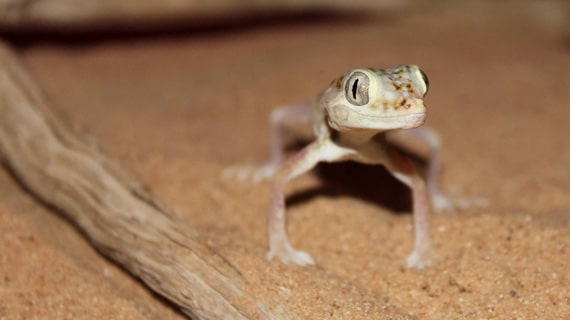 Local desert livings
---
Observe the calmness of the desert under the light of the moon and stars. Don't be fooled by the calm show as the desert is teeming with nocturnal animals that wait for sun down to roam around. Keep a watch out and observe the actions of the nocturnal desert creatures from tiny insects to lizards and mammals. The most exciting part is when you go hunting for scorpions with an infra-red torch that makes their bodies luminous in the dark.
Al Wathba camel racing track
Get free entrance to watch a national sport that takes place in the immaculate Al Wathba camel racing track. Get there as early as possible to participate in the hum of excitement that infuses the crowds before a camel race. Camel races are usually organized on mornings during the weekend and sometimes on UAE national holidays. Watching a camel race is one of the musts in the list of things to do in Al Wathba and without a doubt will be one of the most memorable experiences of your UAE trip. Don't forget to pick a camel and cheer them on as these giants compete each other for the pride of their masters.
Day trip to the Al Wathba Desert
---
The fossil dunes of Al Wathba desert look like they are from the environment of another planet ad make you feel like you are in some parallel universe. Due to this it has been used as the backdrop of many a Hollywood scene. These wind-swept sand sculptures are hardened with infused calcium carbonate. Follow your guide on an attempt to learn more about the environment that surrounds this area. Follow this up with a visit to the amazing Al Wathba Wetland Reserve which is home to roughly 5000 Flamingoes. Learn about the variety of other local and migratory birds, various plants along with their uses and so much more. After you have explored this gem of a reserve, drive to Al Khatim desert for an evening desert safari.
Make your first stop at a camel farm to learn more about these desert giants. Follow this up with a mind-blowing dune bashing session. Feel welcome at the camp as you are served the traditional date and Kahwa (Arabic coffee) combination. Take a photo shoot wearing Bedouin attire, experience sand boarding, ride on the back of a camel or smoke a pipe of shisha until dinner time. After you have filled up from the delicious BBQ dinner spread, end the evening with live entertainment of tanoura and belly dancing performances.
BOOK NOW
---
Travel to Al Wathba's fossil dunes where its weird shaped rock formations make you actually believe you are in a different planet. Learn about these formations and how they have taken their shape from your guide before moving to the Al Wathba Wetland Reserve. Here you can observe many species of birds, mammals, reptiles, insects and plants. However, the highlight of your visit will be the flock of flamingoes that can't be found anywhere else in the Middle East. After a bunch of photos to fill up your Instagram journey to Al Khatim desert for a morning safari. Stop at a camel farm and take a few clicks with the humped desert dwellers. Head to the desert camp and relax with a steaming cup of Kahwa (Arabic dates) served with dates, a heavenly combo that has to be tasted to love. Spend your morning enjoying various other activities like camel riding, sandboarding and more.
BOOK NOW
14

Fossil dunes and flamingos By Emirati Guide Afnan Albreiki
---
If you want to get the maximum out of this tour with loads of photos as memories, the best time is between December to April. Head to the AL Wathba Wetland Reserve where your guide will lead you on a wonderful journey of Abu Dhabi's plant and animal life. A favorite of this reserve is the flamingo sighting which should not be missed. Follow this up with a visit to the fossil dunes of Al Wathba to feel like you are anywhere other than earth.
15

Wildlife of al Wathba wetland reserve by By Emirati Guide Sultan Karrani
---
Uncover the treasure trove of wildlife that is preserved within the territory of the Al Wathba Wetland reserve. Your guide will educate you about the various environments within the reserve and the variety of animals that live in each of them. From the tiny antlion to the swift Dhub and quirky flamingoes, see it all.
BOOK NOW
Frequently asked questions
They are scheduled to be held between 28th February to 10th March 2020 from 7.00 am to 10.00 am and 2.00 pm to 5.30 pm. This is yet to be confirmed but entry is free.
The traffic on the road out to Mussafah tends to be pretty much busy during the weekend and it's better to visit during Friday or Saturday.