Important Message
The Sultanate of Oman has closed its border so the Oman visa run cannot be conducted. They have also announced that they will be suspending the issuance of all tourist entry visas for a month effective from the 15th of March 2020. Additionally, airport to airport visa change to Oman will not be conducted as all flights to Oman have been suspended. Other measures taken by Oman to stop the spread of Corona virus are postponing all sport activities, ban shisha in restaurants, to stop the entry of cruise liners and reduce the attendees of court hearings to individuals directly related to the case.Checkout our updated tourist visa extension page
Oman visa run 2020 Updates & Express UAE tourist Visa service
March 19, 2020 Updated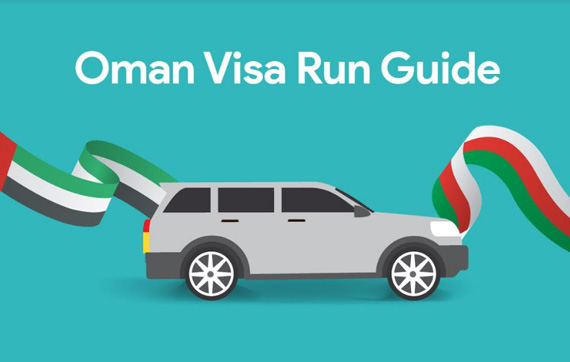 ---
This blog is loaded with updated information and helpful tips that can make your Oman Visa Run more organized. Learn about the various types of visas and how you can obtain a quick UAE tourist visa service to experience a pleasant stay in UAE.
01


2020 updates & rules
These are the recent updates on the Oman Visa Run that is listed at the order of recent first.
1. Announced by the Omani Police on October 25, 2019 and effective from November 1, 2019 onwards, visitors of all nationalities should apply for a pre-entry visa before travelling to the country. Thisprocess is complementary for visitors arriving from the UAE and Qatar but may take roughly four days to process. Visitors from other countries may have to pay a fee that can range between 50 AED (13$) to 500 AED (130$) depending on the nationality of the traveler. Passports should have a minimum validity of 6 months before the date of travel into Oman.(Source : The national)
2. From October 17, 2019 onwards expatriates residing in the UAE can bring their parents to the UAE without paying any security deposit. This is a huge advantage for individuals living in a strict budget. This rule waivers the need to pay a refundable security deposit to the GDRFA (General Directorate of Residency and Foreign Affairs – Dubai). Anyone interested can contact any of the travel agencies that assist in bringing parents for a visit at a lower cost.
(Source : Gulf news)
3. Effective from April 3, 2019 extending of Emirates ID, on-arrival visas and other UAE visas can be done through www.amer.ae. Individuals eligible for a complementary 30-day on-arrival tourist visa (Canada, UK, USA, etc.) can do this by themselves by visiting the www.amer.ae website and selecting the 'create application' section. Amer is a brand of Tahseel and is a convenient solution for all UAE visa and ID needs.
(Source : Gulf news)
02


All about the Oman visa run
What is a visa run?
A visa run is the process of travelling out of UAE border limits to Oman and re-entering UAE after getting a new Visa. This process is highly suitable for individuals visiting the UAE with on-arrival visa and wish to extend their stay by applying for a new visa. However, this facility is only applicable for certain nationalities. A visa run is also used to change the visa status of a visitor to resident or vice versa. Many individuals who find a job while holding a visit visa can get a resident visa by doing an Oman Visa run. This is also applicable if the individual wants to change their status from resident to visitor.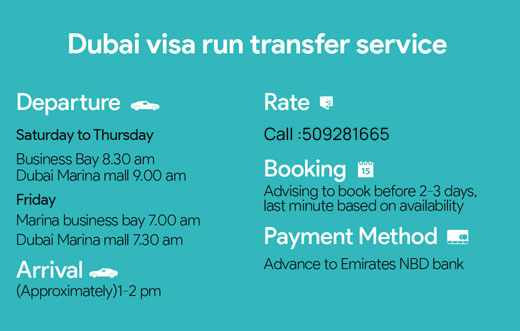 Nationality details for Oman visa run
30 days on arrival National
Oman visa run is very useful and economical for the the nationalities getting 30 days on arrival visa to UAE, here is the list of nationals who can exit and come back again on a 30 days visa.
| | | |
| --- | --- | --- |
| Andorra | Japan | Singapore |
| Australia | Kazakhstan | San Marino |
| Brunei | Macau | Ukraine |
| Canada | Malaysia | United States of America |
| China | Mauritius | United Kingdom and South Ireland |
| Hong Kong | Monaco | Vatican City |
| Ireland | New Zealand | |
90 days on arrival and complication in oman visa run
Below list of nationals getting 90 days on arrival its a multiple entry which is valid for 6 month. Even though you stayed 90 days in total in side UAE, the 6 month validity will be still applicable once you consume 90 days, you need to obtain prepaid visa. Doing oman visa run not going to possible on a sharing basis or doing a private transfer will be making it more expensive. The approval of your prepaid UAE visas not always guaranteed will be ready in the same day. So below nationals usually driving by them self and waiting for the new visa in the boarder.
| | | |
| --- | --- | --- |
| Argentina | Honduras | Romania |
| Austria | Hungary | Russian Federation |
| Bahamas Islands | Iceland | Saint Vincent and the Grenadines |
| Barbados | Italy | San Marino |
| Belgium | Kiribati | Serbia |
| Brazil | Latvia | Seychelles |
| Bulgaria | Liechtenstein | Slovakia |
| Chile | Lithuania | Slovenia |
| Costa Rica | Luxembourg | Solomon Islands |
| Croatia | Maldives | South Korea |
| Cyprus | Malta | Spain |
| Czech Republic | Montenegro | Sweden |
| Denmark | Nauru | Switzerland |
| El Salvador | Netherlands | Uruguay |
| Estonia | Norway | |
| Finland | Paraguay | |
| France | Poland | |
| Germany | Portugal | |
| Greece | | |
03


How to apply for Oman visa

As per a recent press release in which the Royal Oman Police requested visitors to apply for an Oman Visa in advance. This is an initiative in reducing the time spent by making it possible to fill the online form through the ROP (Royal Oman Police) Website. This reduces the backlog of visa forms to be re-typed at submission. To ensure a successful visa process make sure to apply for your Oman Visa at least 5 days before your scheduled visa run date. Follow the steps mentioned below and you will be set for a hassle-free Oman Visa run.
STEP1
Save scanned soft-copies of these documents in your device
Passport Personal Details Scan
Last Page of Passport (if applicable)
A Scanned copy of the colored passport-sized photograph
Birth Certificate of Minor (if applicable)
Airline Confirmation (if applicable)
Proof of Accommodation (if applicable)
Supporting Document (if applicable)
STEP3
Sign up and visit the home pageof Royal Oman Police Visa website
STEP4
Apply for the visa by selecting the unsponsored visa option
STEP5
Fill up the requested details along with your nationality and continue to the next step
STEP6
complete the online payment process for your Oman Visa. The price of your Oman Visa may vary between 5 Omani Riyals (47 AED) to 50 Omani Riyals (476 AED) depending on the type of visa.
STEP7
Save the copy of your e-Oman tourist visa which will be processed and sent to your ROP account within 1 to 4 working days.
04


Self Driving Oman Visa Run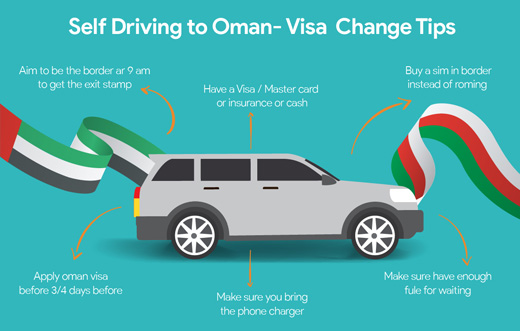 Taking your parents or family members for an Oman visa run
If you are driving your family or parents to the Oman border to change the visa status, then you need to get an Oman visa for you too. Since you are a working resident of UAE and possess a residence visa page, the profession listed on the residence page will influence your visa. Look at the list of professions in the entry visa for foreign residents in a GCC states
How much are overstaying fines?
Overstaying fines are calculated on a day-basis where you will be charged 350 AED for the first day and 100 AED per day from the second day onwards. To reduce the chances of these happening use a calendar to calculate the date you should be leaving by regarding your entry date as the first day of stay.
Car insurance
If you are driving to the Sultanate of Oman, then its mandatory to have car insurance as it will be checked by the immigration officials at the border. If your vehicle is from a rental, then you will require written permission from the rental company stating their acceptance of you taking the car across the border (they might charge you for this letter). Although a photocopy of the vehicle's registration was accepted, the updated rule is to produce the vehicle's original registration (which most rental companies aren't willing to handout). If the vehicle is your own but does not have insurance in Oman, you can purchase a third-party insurance package at any of the insurance offices situated near the Oman border. These packages cost roughly 90 AED and provide insurance for a minimum of 5 days. Make sure to have a letter of acceptance from the owner of the vehicle if you are borrowing a vehicle for the Visa run. Although it is not a mandatory requirement bring it along to be on the safe side.
ATM
ATMs are available at the Omani Border.
Printing Oman visa (If you applied for pre-paid express visa)
Individuals who have applied for the pre-paid express visa can get their visa printed at the border. All you need to do is email them the document and they will print it for a charge of roughly 30 to 50 AED.
Local SIM card for data
If you have applied for an express visa through a tourism company, you need to keep in touch with them to receive updates about your visa status. There are many data packages that are sold at the Oman border and the most cost-friendly is the 1GB for 20 AED package.
05


How to apply UAE visa

Individuals who want to extend their stay in UAE with a pre-paid visa but want to avoid the hassle, cost and time waste flying out of the country, can reap the benefit of this easy service if they can get hold of a tourism company that is well-experienced in this process. Make sure that the tourism company you choose is well-experienced in this process and can provide an express visa with assistance (if the need arises) with regards to exit issues, fines and other immigration problems. If you choose a company solely based on the cheap price of their Oman Visa Run package without taking into consideration their expertise you might face major delays or even have to spend few nights in Oman.

If you do not receive your visa within the course of the day you exit from the UAE, you will have to drive roughly 3 hours to Muscat to be able to find good rooms to spend the night.

Here are some tips that will help you choose a good company and get a clear understanding of their service and procedures:
1. Drop by their office and enquire about the Oman Visa run and the procedures they follow. Also ask about their express visa service
2. Read their Google and TripAdvisor reviews as this will give you a good idea about their customer service and what other customers think about their efficiency.
3. Drop an email on their official email address.
Keep reading to educate yourself on the process of applying a prepaid UAE visit visa with the tourism company
STEP1
Explain the reason for extending your stay in the UAE and pick your preferred visa type. You can opt between a single entry or multiple entry tourist visa. Here are the different types:
| Visa type | Express Visa Rates | Extension |
| --- | --- | --- |
| Single Entry 30 Days | 480 AED | Extendable |
| Single Entry 90 Days | 900 AED | Extendable |
| Multiple entry 30 Days | 1250 AED | Unable to extend |
| Multiple entry 90 days | 2450 AED | Unable to extend |
Checkout the single UAE visit visa guide, multiple entry visa guide, type of visa guide, extending the UAE stay guide for more details
STEP2
Use a scanner (avoid using the mobile scanning app) to get a colored softcopy of the applicant's passport which has a minimum validity of 6 months and a colored photo of the applicant. Make sure you also have the softcopy of the referee's residence visa page as the tourism company might request for it.
STEP3
Select an ideal tourism company to issue your express visa
STEP4
Make the payment directly or online
STEP5
Drive to the Oman border, notify them that exit is complete and send the tourism company a photo of the exit stamp that was stamped at the border.
STEP6
Wait for the visa to get issued
STEP7
Receive the issued visa via WhatsApp or Email.
STEP8
Print the visa, submit to immigration at Oman Border and wait for the entry seal to be stamped on your passport.
STEP9
Re-enter UAE with new pre paid visa. Make sure you check on the visa terms and condition to avoid issues on your next visa run
06


UAE Tourist Visa rules
All payments for the UAE tourist visa must be paid in advance and is non-refundable.
The time taken for the visa to process is solely based on immigration processes.
Being able to enter the UAE is entirely the decision of the immigration department.
The validity period of all visas issued by the UAE immigration is 60 days. Individuals who are doing the Visa run will also see this field in their visa. This can be ignored as the date of issue will also be the date of entry in the case of an Oman Visa run. Depending on the visa you have applied for the 30- or 90-day duration will be counted from the date of entry.
All UAE tourist Visa holders have a 10-day grace period so make sure you use an online calculator to calculate the date of exit. The stay period will be calculated from the date of entry.
Avoid booking a visa run on weekends (Thursday, Friday and Saturday) especially if you are applying for a pre-paid visa.
07


Exploring Hatta & Hatta border visa run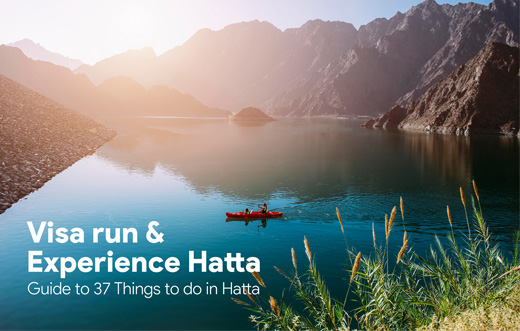 Individuals who are driving to Hatta for their visa change and receive their new visa early can spend the rest of their time exploring Hatta with a list of entertaining Hatta things to do. Formerly known for its many desert farms and quaint historic forts, modern-day Hatta is now popular for scenic hiking routes, exciting mountain biking spots and many more activities that are mentioned in Arabiers interesting guide 37 Things to do in Hatta
Things to see in Hatta
Hatta is blessed with plentiful natural vistas while also being a hub of UAE's conserved heritage. Scenic roads flanked by Rocky Mountains guide you into the Hatta town. The Hatta Fort Hotel allows you to savor the delicious views of the Hajar Mountain Range while staying or dining in their gorgeous premises. A mandatory stop in Hatta is the Hatta Dam Viewpoint that promises rolling views of the surrounding mountains and the glistening Lake. A kayaking expedition in the Hatta Lake will invigorate your mind for a dose of history served up at the Hatta Heritage Village. Look at the dioramas demonstrating life in ancient Hatta and see many restored buildings that were part of a typical Hatta village. For the bookworms, the Hatta library might prove a good stop to read up on a bit of Hatta history within the pages. Adventure lovers can also have a thrilling time by trying mountain biking in any of the many trails that offer spectacular views and are suitable for riders of all levels.
Things to do in Hatta
For adventure seekers, Hatta is a hive of possible activities. Mountain biking being one of the highly enjoyed activities in this hilly town, bikers of all ability levels can enjoy the scenic trails that are dedicated especially for mountain bikers to enjoy the views while having a thrill.It is also a great way to savor the surrounding environment as you will encounter rugged mountains, clear water pools, lush farmlands and maybe even a secret oasis or two. You can have a better idea of a typical mountain biking excursion by looking at our mountain-biking itinerary or even visit the Hatta Mountain Trailbike (MTB) for up-to-date details on cycling routes and more. Newbies can also get some lessons from MTB so that you can sightsee and engage in a new activity. For some extra adventure activities that can get your adrenaline pumping, don't miss out on a visit to Hatta Wadi Hub. Up the adventure quotient by canoeing along the Hatta Dam river which promises lots of peaceful views and an exciting feeling of discovering hidden waterways as you canoe along. You can make it a full-day experience by bringing along a well-packed picnic. However, consider nature and conserve it by not leaving litter behind.
08


Ideal routes for visa run

None of the routes mentioned below are in anyway superior or better than the others. It all simmers down to the route that adheres within your available time limit, your ability and consent to go the distance and your starting point. The most commonly taken routes are:
Wadi Hatta – Al Wajajah Border
Dubai and Sharjah residents who are doing an Oman Visa run use this crossing point the most. Currently, the Hatta E44 is closed for expats so make a left turn at Al Madam-Al Malaiha road. Make a right turn at the signpost 'Shawka' to the E102 Sharjah-Kalba road. After driving for approximately 30 kilometers, make a right on to the E44 Hatta Road. You will get to the Al Wajajah border post roughly 3 kilometers after you cross the border. Park and complete the necessary paperwork before driving along.
Kalba – KatmatMilahah Border
Unless you have any good reason to visit the northern side of Oman, its not a highly preferred crossing point, especially for Dubai residents. It can be accessed through the E99 from the east coast of Sharjah and is the northern crossing point to mainland Oman. However, paperwork is really easy at this crossing point with the entire process taking a mere 20 minutes or so. Border guards are very friendly but do not permit rented cars to drive through unless they possess police permission to take the car over the Omani border.
Mezyad – Hafeet Border Al Ain
Commonly used by Abu Dhabi and Al Ain residents and is the best route to take if you are driving to the south of Oman or to Nizwa. The distance between both border posts is only 1.3 kilometers making it a walkable distance during winter season.
Khatam Al Shukhla Al Ain
Frequently used by heavy vehicles like trucks, this route is situated north-east of Al Ain and is preferred by some expats due to its quieter atmosphere. However, you will have to drive more than 30 kilometers across the border to get to the Oman border post at Al Wadi Jizi making it one of the longest drives for the Oman Visa run. If you enjoy long, quiet drives and have the time at your disposal you can take this route.
Al Dhara – Bukha (Musandam)
A roughly 2-hour long lovely drive from Downtown Dubai, drive through the E311 that's adjoined to the E11. This is one of the scenic routes as you will be driving along the Ras Al Khaimah coastline until you get to the border. Once there, park, walk across to the Oman border and get your stamp.
Other crossing points
You might have heard of other border crossing routes like Hili-Al Ain, Hatta E44 and Al Madheef-Buraimi. None of these are opened to expats and only allow GCC Nationals.
09


Visa run with tours & alternative options

If you find the visa run procedure boring, make it interesting by transforming it into a brief visit to one of the nearest destinations. You can book a holiday package curated in the UAE and explore a spectacular destination to fulfill the criteria of exiting the country and have a wonderful time until you return with a new visa.
Option 1
Armenia Visa change Dubai
Armenia is loaded with interesting culture, lush scenery, historical monuments and friendly locals. We have partnered up with the best hotels and hostels in Armenia to ensure you get a good value for your money and an excellent package. Filipino nationals who want to renew their UAE visa but want to have fun while doing it can book this Armenia Visa Change package.
The Armenia visa change package includes:
Return air ticket(DXB-EVN-DXB / SHJ-EVN-SHJ)
Dummy Ticket(EVN-MNL & DXB/SHJ-MNL)
Airport transfers
Mobile cards
Accommodation(Wi-Fi and breakfast included)
New UAE visa (30 / 90 days)
Approximate cost 1300 AED per person
Option 2
Georgia visa change package
Towers nestled in the breathtaking mountain landscape, quaint vineyards, darling churches and high-spirited locals are few of the amazing things you will encounter in Georgia. The Georgia visa change package is ideal for anyone who doesn't want to fly back home but make a memorable experience while renewing their visa.
The Georgia visa change package includes:
New UAE Visa
Georgia Visa 3 Nights & 4 Days at 3* Hotel with breakfast at Single Room
Airport transfer (from airport to hotel)
Round trip ticket (Air Arabia) 7 kg Baggage
Approximate cost 2400 AED per person
Option 3
Short Oman Holiday & Salalah holiday package
Historical ruins, interesting history, adorable beaches and palm-fringed mountains are just the scratch on the surface of the proverbial bucket. You could be chilling near a waterfall surrounded by cliffs in the North or soak in the sun along the stretch of pristine beaches in the South. Either way, Salalah is definitely a treat and the best option for a relaxed holiday not far from UAE.
The Salalah and Oman holiday package includes:
Ex-Dubai return economy class air ticket on fly Dubai
2 Nights' accommodation in Hamdan Plaza Hotel at Salalah
Sights of Salalah
Meals mentioned as per hotel Inclusions.
Airport transfers included as mentioned in the itinerary.
On-tour support to the passengers in Salalah (From 9:00 AM UAE Time to 9:00 PM UAE Time)
Standard Check in Time is 2 PM Local Time (This might vary for some destinations.)
Approximate cost 3000 AED per person
Option 4
Short Oman Holiday & Muscat holiday package
The city of Muscat is not nicknamed as the Jewel of Arabia for no reason! The city exudes an Arabesque aura with gorgeous palaces, beautiful mosques, pearl-white structures, traditional forts and lively souks. You can experience the best of a variety of landscapes from the gorgeous beaches bordered by mesmerizing blue water on one end, the craggy mountains on the other end and vast golden deserts in the centre. You will cherish the Omani hospitality and the peek into the city's wealthy heritage.
Ex-Abu Dhabi return economy class air ticket on Emirates Airlines
2 Nights' accommodation in Tulip Inn Muscat at Muscat
Majestic Forts
Meals mentioned as per hotel Inclusions.
Airport transfers included as mentioned in the itinerary.
On-tour support to the passengers in Muscat (From 9:00 AM UAE Time to 9:00 PM UAE Time)
Standard Check in Time is 2 PM Local Time (This might vary for some destinations)
Approximate cost 4800 AED per person
Option 5
Baku visa change package
The largest city to exist below sea level, Baku could be regarded as a perfect blend of Dubai and Paris. Thriving with nightlife Baku's boulevards lined with trees, gorgeous stone mansions and UNESCO listed Old city all add to the romantic feel of the city while its architectural developments make up the amazing personality of Baku.
Ex-Dubai return economy class air ticket on Air Arabia
2 Nights accommodation in GizGalasi at Baku
Meals mentioned as per hotel Inclusions.
Airport transfers included as mentioned in the itinerary.
On-tour support to the passengers in Baku (From 9:00 AM UAE Time to 9:00 PM UAE Time)
Standard Check in Time is 2 PM Local Time(This might vary for some destinations.)
Approximate cost 2700 AED per person