2022-2023 New Years Eve Abu Dhabi Special Things To Do List
New Year Eve Parties
01.

2022-2023 New Years Eve Yas Marina Dinner Cruise
What's Included
In Abu Dhabi, Yas Island (21:30 - 00:30)
Likely to experiencing Fireworks in Yas Marina
Festive Buffet from 5 star catering
Mineral Water, Soft Drinks, Juices, Coffee/Tea
Selected beers & house wines all evening
A Glass of Bubbly Drink to toast 2023
Music on board (NO DJ party or live music taking place)
Abu Dhabi's fire work (All fireworks are done by the Dubai & Abu Dhabi Municipality and as per their jurisdiction)
02.

2022-2023 New Years Eve Abu Dhabi Desert Resort - 5 * Dinner Gala
---
Gather up your family and friends to welcome New Years EveAbu Dhabi with entertainment and fun. Abu Dhabi is anticipating the arrival of the New Year and has already started preparing for the celebrations with a line-up of activities like firework shows, Rockstar performances, themed celebrations and more.
Read this guide for a complete idea of Abu Dhabi's New Year's Eve 2022 things to do line up and start planning your visit to Abu Dhabi now.
See the sky light up for free (firework shows)
The entire Abu Dhabi Emirate, from the corniche all the way up to Liwa, are planning to illuminate their skies with brilliant firework shows to countdown for the New Year. UAE is known for its out-of-the-world attitude. Expect that even in the firework shows with extravaganzas that will even break a world record or two. Here is a complete list of places in the Abu Dhabi Emirate where you can enjoy a colorful New year eve with some free firework shows.
1. Spectacular fireworks near the palace(Emirates Palace)
Emirates Palace is planning a firework show as spectacular as its structure. The show will take place from its private beach which is perfectly visible if you select the right vantage point. For a breathtaking view of the Emirates palace at night and the firework display stop by next to the Al Kareem Mosque. Individuals driving to this place can park their vehicles near The Founder's Memorial or in Marina Mall and walk to the vantage point.

Ideal Locations to see Emirates palace fire work for free :Al Kareem Mosque
---
2. Fireworks and some shopping (Abu Dhabi Corniche Al Bahar)
The Al Bahar beach front situated along the Abu Dhabi Corniche is an ideal location to observe the fireworks that will light up the Abu Dhabi sky. The well-maintained beachfront is lined with chic stalls offering everything from retail and leisure options to dining. A good place to visit with the family, spend time in the stalls until midnight.

Al Bahar Abu Dhabi Cornice
---
3. Fireworks in an island (Yas Island)
Drop by at Yas Marina with your dear ones for a memorable night out until it's time to welcome the new year with a Yas-tastic firework show at midnight.

Yas Island Yacht Club Area
---
4. The grand Mosque and grand fireworks (Shangri-La Hotel Abu Dhabi, Qaryat Al Beri)

The Sheikh Zayed Grand Mosque at night is a breathtaking sight in its own. Imagine how Instagram-worthy it will be with fireworks lighting up the background sky. Make your way to Musaffah Bridge or Maqta Bridge which are perfect viewpoints to start the new year with a free firework show.
---
5. World heritage, laser shows and fireworks (Sheikh Zayed Heritage Festival)
A festival that brings to life the ambitions of Sheikh Zayed Bin Sultan Al Nahyan to preserve the national heritage along with that of the world, this is a suitable place for not only families but also bachelors and couples. The festival starts off with a concert featuring Arab rock stars FouadAbdulwahed and Eida Al Menhali. This is followed by laser show, 3D light show and finally a firework show to start of 2022. Also, explore the world in UAE by visiting many remakes of famous international monuments along with some Emirati buildings that are of importance.

Sheikh Zayed Heritage Festival location
---
6. Celebrity action before fireworks (Al Maryah Island)
Al Maryah Island will welcome the New Year with live performances by Myriam Fares and Amr Diab. Then when it's time for the clock to strike midnight, themajestic firework show which takes place at Al Maryah's boardwalk will countdown to the New Year. Entrance is first-serve basis so arrive early. Don't fret though, even if you don't gain entry, watch the performances on any of the large screens.

Al Maryah Island
---
7. Firework festivities (Al AinHazza Bin Zayed Stadium)
Al Ain's famous Hazza bin Zayed Stadium will throw a firework bash that will keep you mesmerized until New Year begins. The gigantic stadium is not only flocked by locals but also by tourists.

Hazza Bin Zayed Stadium
---
Greet New Year's Eve lavishly
It might feel like January 2022 was just yesterday. But we are fast approaching the end of 2022. Planning for the 2022 New Year's Eve should start now and Abu Dhabi should definitely be at the top of your choice-list. New year's celebration has always been a grand affair in Abu Dhabi and this year isn't going to be anything less. Here is a list of lavish ways with which you can say hello to New Year with fireworks while basking in luxury.
Take a look at some of the best packages that you can choose from.
1. Emirates Palace's Grand Ballroom& beach access to fireworks display
Not just a hotel but an iconic landmark of Abu Dhabi, there is no doubt their firework show will be as iconic as the status Emirates Palace holds. The fireworks will launch from the Palace's private beachfront and can be viewed from the Palace Terrace. Refreshing drinks and food served on the Terrace will keep you energized until midnight.

Emirates Palace
---
2. Shangri-La Hotel Abu Dhabi, Qaryat Al Beri
The lavish Shangri-La Qaryat Al Beri is a luxurious option to enjoy some New Year's Eve celebrations. You can dine in any of its 5-star restaurants (Hoi An, Shang Palace and Sofra) serving up delicious New Year's feasts. For another option, enhance the celebratory atmosphere in the Pool Bar, Lobby Lounge or ESS Lounge. All these places not only offer spectacular views of the fireworks but also the lit-up Sheikh Zayed Grand mosque that is located just opposite the canal bank of Qaryat AL Beri.

Shangri La Hotel Abu Dhabi
---
3. Al Maryah Island
Enjoy a fun festivity known as 'Capital Celebrates' which will take place on Al Maryah Island's boardwalk. This celebration is graced by famous rock stars of the Arab World, Meriam Faris and Amr Diab. Their live performances can be viewed in the stadium, entrance to which is provided on first-come first-serve basis, or on any of the huge screens set up along the length of the promenade. When its time to welcome 2022 just shift your glance from the stage up to the sky.

Shangri La Hotel Abu Dhabi
---
4. New Year's Yas Island Dhow Dinner Cruise
Welcome New Year Emirati style by booking this 5-star dhow cruise with dinner. The antique interior of the dhow exuding the Emirati vibe and being surrounded by stunning views of the Abu Dhabi skyline will make this a memorable excursion. Your complementary Buffet Dinner is catered to by Radisson Blu and is offered with Unlimited beer and wine. There's no better way to view the New Year's fireworks than on a dhow cruise with uninterrupted views of the sky.

Yas Marina Yacht Club
---
5. New Year's Desert party Al Khatim desert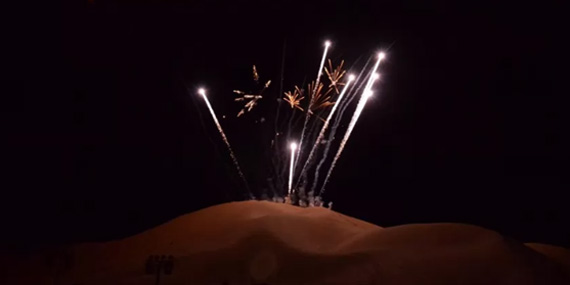 Head to the desert for a New Year's Eve celebration like no other. The Landcruiser will pick you up and drive you to the decked desert party camp situated in the heart of the desert. Once there, celebrate the 31st of December with the desert ambiance and a breathtaking firework display.
---