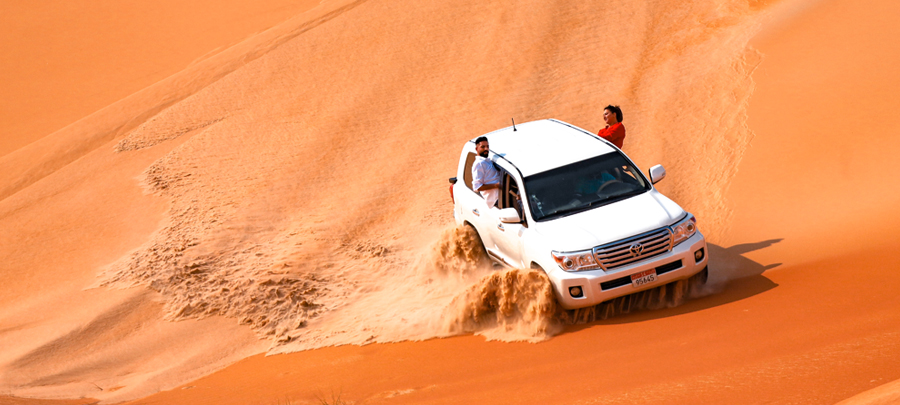 Understanding Umrah and Visa Eligibility
Adventure and Exploration: You can enjoy different desert activities on the Abu Dhabi desert safari, such as dune bashing, camel riding, and quad biking amid breathtaking scenery.
Cultural Immersion: These tours offer a one-of-a-kind chance to get acquainted with Bedouin customs and practices. You will gain an understanding of the diverse cultural traditions of this region as you participate in activities such as henna painting and watching traditional music and dance performances.
Breathtaking Scenery: With its shifting dunes, the desert offers some of the most natural and beautiful views. Watching how light and shade move at sunrise and sunset is beautiful.
Types of Desert Tours
Morning Tour: This tour is perfect for early risers who want to see the peaceful beauty of the desert before the sun rises. Breakfast is served after an exciting morning of sand bashing and camel riding.
Evening Tour: This is the most preferred tour and allows you to experience the enchantment of the desert as the sun goes down. After dune bashing, guests will enjoy watching cultural performances, staring at the stars, and having a delicious dinner.
Overnight Tour: To experience what it is like to spend the night in the desert, you should consider an overnight tour. After spending the day enjoying various desert activities, stay for the night in the middle of the desert in a traditional Bedouin camp.
Private Tours: Private tours provide freedom of choice in itineraries and activities, making for a unique tour.
Factors Affecting Pricing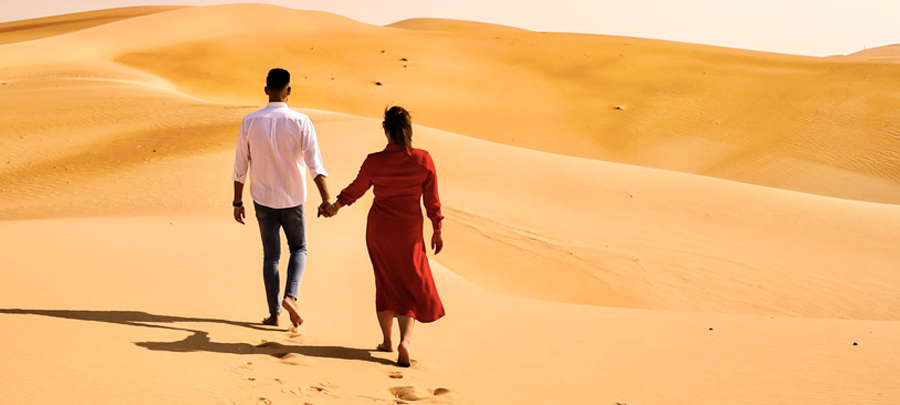 Tour Duration: How long the tour will last affects the cost because the longer the tour, the more activities and experiences.
Inclusions and Exclusions: The inclusions also affect the tour cot because the more inclusions, the higher the price.
Group Size: Group tours are more cost-effective compared to private tours. But private tours have provided exclusivity; hence, the cost is higher.
Seasonal Variations: Demand may be higher during peak seasons, affecting cost. If you want to save money, consider planning your trip during off-peak season.
Budget-Friendly Options
Tips for Finding Affordable Desert Tours
Book in Advance: Book your tour in advance, and chances are you will be offered discounted rates
Compare Prices:Research and compare tour packages from different tour operators and choose the best deal that suits your preferences.
Group Discounts: If you are traveling on a budget, you should opt for group tours.
Price List for Tour (AED and USD)
| Standard Tours | Adult | Child |
| --- | --- | --- |
| Standard evening tour - 4x4 | 190 AED / 52 USD | 150 AED / 40 USD |
| Standard morning tour - 4x4 | 150 AED / 40 USD | 120 AED / 32 USD |
| Standard overnight tour - 4x4 | 350 AED / 95 USD | 300 AED / 81 USD |
| Standard camel trekking - 4x4 | 270 AED / 74 USD | 220 AED / 54 USD |
| Standard ATV (Quad bike) tour | 350 AED / 95 USD | 300 AED / 81 USD |
| Standard Desert tour without Dune Bashing - 4x4 | 190 AED / 52 USD | 150 AED / 40 USD |
| Premium Tours | Adult | Child |
| --- | --- | --- |
| Evening tour, Pool access & 5* Dinner 4x4 | 375 AED / 102 USD | 312 AED / 85 USD |
| Standard morning tour, Pool access & 5* Breakfast - 4x4 | 515 AED / 140 USD | 396 AED / 108 USD |
| Standard overnight stay on a resort - Arabian Nights village - 4x4 | 1150 AED / 313 USD | 782 AED / 213 USD |
| Camel trekking, Pool access & 5* Breakfast - 4x4 | 576 AED / 157 USD | 450 AED / 125 USD |
| Private Dune Dinner - 4x4 | 750 AED / 204 USD | 550 AED / 149 USD |
| Standard Desert tour without Dune Bashing - 4x4 | 190 AED / 52 USD | 150 AED / 40 USD |
Exclusive Packages for Thrill-Seekers
Standard Tours: A standard desert tour in Abu Dhabi is suited for travelers who want to experience the natural beauty and cultural richness. The goal of standard desert tours is to give travelers a well-rounded experience; therefore, they often incorporate various desert-themed activities.
VIP and Luxury Experiences: VIP and luxury experiences offer a level of exclusivity and elegance that exceeds the offerings offered by standard tours, making them an appealing option for travelers interested in having an extravagant journey through the desert of Abu Dhabi. These packages, which have been expertly crafted, are designed to deliver an experience in the desert that is genuinely extraordinary and indulgent.
Customized Adventures: Those seeking personalized desert experiences should opt for customized adventures. All the activities are curated to meet your personalized itinerary. Thus, every moment of your desert excursion perfectly suits your preferences and desires.
Creating Lasting Memories
Souvenirs and Mementos
It's only natural to want to take home a souvenir from your thrilling desert expedition in Abu Dhabi. That is where Souvenirs and mementos come into play. They are tangible reminders of the amazing sights, fascinating people, and adrenaline-pumping experiences you had in the desert.
Popular Souvenirs :
Handcrafted Artifacts: Craftsmen in Abu Dhabi produce a diverse range of exquisitely created goods, including carpets, textiles, pottery, and jewelry, many of which include elaborate patterns and designs. These pieces frequently represent the region's extensive artistic history and rich cultural legacy.
Traditional Clothing and Accessories: Popular souvenirs from the United Arab Emirates include women's and men's clothing, such as the traditional Abaya and Kandura, and accessories, such as headscarves with elaborate patterns.
Sand Art Bottles: These bottles, both beautiful and thoughtful gifts, contain layers of colored sand that have been carefully placed to create gorgeous desert vistas. They are an impressive example of the region's natural beauty.
Perfumes and Oud: Abu Dhabi is well known for its quality fragrances and perfumes. Oud, a fragrant resin made from agarwood trees, is a highly treasured perfume in the region.
Preserving Memories:
In addition to their value as tangible objects, mementos can serve a more abstract purpose. They can take you back in time, allowing you to experience all of the sights, sounds, and feelings you had on your journey across the desert all over again.
They become conversation topics when displayed in your home and create stories about the exciting adventures you had in the Abu Dhabi desert.
Conclusion
When visiting Abu Dhabi, embarking on a desert tour is an experience that will not only be exciting but will also provide you with the opportunity to learn something new about the local culture. Whether you choose a morning or overnight tour, you will enjoy the serene desert environment and various desert activities for a memorable experience.